Trailer Untuk Anime Summer 2016 ( Wajib Lihat !! )

Posted by Admin on Wednesday, June 29th, 2016, Anime Series Trailer
Trailer Untuk Anime Summer 2016 ( Wajib Lihat !! )
yo, ketemu lagi…
Seperti musim2 sebelumnya, AnimeKompi akan men-share Trailer/PV untuk anime musim depan, dan kali ini kita akan kedatangan musim ketiga di tahun 2016 yaitu Summer dengan periode waktu Juli – September, ada sekitar 46 judul anime  yang akan mengisi musim ini…
Banyak, terlalu banyak anime yang mengundang perhatian saya, bakal banjir ini musim depan, sampai gak semua saya bisa review dibawah.
Ganti musim itu hanya satu masalah? kuota internet, pas ada kuota, HDD-nya wkwkwkwk
dee, inilah beberapa trailer untuk anime Summer 2016 yang dirasa layak buat di nanti dan di tonton.
" Jangan Pelit-pelit Buat Buffer "
ReLIFE
Studios:
TMS Entertainment
Genres:
Romance, School, Slice of Life
Seorang NEET umur 27 tahun diberi pil layaknya conan, kembali muda dan masuk ke masa SMU lagi, GREGET STORY

Adaptasi dari manga online yang cukup populer, 1,2 juta download dan 1 juta copy manga sold

Gak tanggung-tanggung, akan ada 12 lagu ending buat ini anime, dan parahnya, jajaran band-nya….

I Wish, Tamio Okuda, CHEMISTRY, the brilliant green, Sentimental Bus, T.M. Revolution, Mika Nakashima, PUFFY, BLACK BISCUITS, Porno Graffitti, Whiteberry, L'Arc-en-Ciel

HYPEEEE!!

Melihat trailer-nya aja udah hype, bakal seru ini besok
---
Shokugeki no Souma: Ni no Sara
Genres:
Ecchi, School, Shounen
Sang primadona untuk musim depan, gak perlu ditanya ya…

Season dua akan melanjutkan Tōtsuki Autumn Election Arc, big match antara Souma vs Alice

Kalau dilihat dari trailer-nya, kemungkinan bakal sampai Stagiaire Arc

Yup, bisa di prediksi akan dapat 25 episode lagi

Gak sabar nunggu scene kemunculan 10 tootsuki, bakal dibuat speechles kita…
---
Tales of Zestiria the X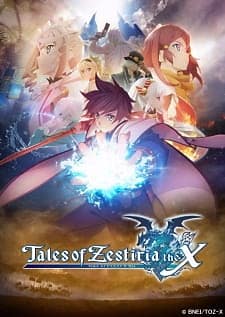 Dunia RPG Fantasy ala Ufotable

Adaptasi dari sebuah game terkenal yaitu Tales series

Ya, anime yang paling saya tunggu musim depan, bukan karena game-nya tapi opening game-nya ~ngakak

Lagi acak2 cari AMV di youtube, malah ketemu ini dan langsung jatuh hati sama semua detail art-nya, patut dipuja emang Ufotable

Art di anime akan sama kualitasnya dengan game

Untuk kualitas story, dari yang komentar di episode special-nya kemarin, bagus dan positif, jadi makin dibuat penasaran…
Genres:
Comedy, Shounen, Slice of Life
Buat para penggemar Barakamon, gak di sangka dapat prekuel-nya…

Setting handa saat masih jadi anak SMA, feel dan komedinya masih akan tetap sama

Sayang sungguh disayang, gak ada Naru, kangen madam dan shock face-nya…

Jujur, pas lihat poster-nya, sempet tertipu, saya kira Hachiman Oregairu dapat spin-off, ternyata…
---
Days
Genres:
School, Shounen, Sports
Salah satu anime sport yang saya tunggu setelah Battery

Genre yang tak pernah mengecewakan, hampir 100% sports yang saya tonton pasti bagus

Kali ini dapat sepak bola, udah lama gak nonton tema ini, terakhir Giant Killing

Days masuk golongan sport normal, gak ilmu2 macam phantom shoot, emperor eye atau apalah itu

Sport biasanya dapat jatah 2 cour, minimal 24 episode, ya bisa duet besok sama Haikyuu S3
---
Hitori no Shita: The Outcast

Producers:
Haoliners Animation League
Genres:
Action, Super Power,Supernatural
Melihat trailer-nya, horror juga

Soundtrack-nya berasa Sinden-nya orang jepang

Diadaptasi dari web manga, dan susah kali cari review-nya, jadi gak ada gambaran selain sinopsis

Tapi trailer-nya bner2 menjanjikan, berasa horror-nya anime Shiki, salah satu masterpiece di genre horror itu buat yang belum tahu…
---
Mob Psycho 100
Genres:
Action, Comedy, Shounen,Slice of Life, Supernatural
Yup, ini dia, abang-nya OPM, pengarangnya sama…

Wajah tokoh utama saja udah mirip si botak, cuma ditambahin rambut

Sama-sama overpower, yang satu punch, yang ini telekinesis

Konon komedinya lebih nampol dari OPM, makanya art-nya dibuat begini, biar gak jauh dari versi ONE

Jajaran staff juga hampir sama semua dengan OPM, jadi gak perlu ragu. Dan isunya dapat 2 cour
---
Orange
Producers:
TMS Entertainment
Syukur saya belum nonton L.A-nya wkwkkw

Adaptasi dari manga dengan rating 8.80 di MAL

Haduhh, gila pak, baca-baca review orang soal manga-nya, terlalu wow, merinding ey

Konon akan sekaliber Shigatsu wa Kimi no Uso untuk Drama-nya, bahkan lebih, siap-siap baper aja

Manga-nya sudah rilis di indonesia, 5 volume dan katanya selalu cepat habis
---
Masou Gakuen HxH
Genres:
Action, Comedy, Ecchi,Fantasy, Harem, Romance, School,Sci-Fi
Harem yang akan hype musim depan

Geleng-geleng lihat trailer-nya, tak usah dibahas, dosis ecchi-nya mungkin sekaliber DxD, ganas-ganas heroine-nya

HxH, yang pasti H disini bukan Hunter x Hunter
---
 Taboo Tattoo
Genres:
Action, Comedy, Martial Arts,Mystery, Super Power, Supernatural
Anime dari pengarang manga Fate/Zero

Bertema martial arts, dominasi tema beli diri sekarang ya naruto, one piece, dragon ball

Jarang-jarang datang dari golongan anime anti-mainstream, jadi sangat berharap banyak untuk yang satu ini…

Art-nya mendukung, kemungkinan bakal apik juga ini battle-nya…
---
Rewrite
Genres:
Action, Comedy, Romance,School
Re:zero, ReLIFE, Rewrite, tiga 'Re' musim depan

Adaptasi Key yang paling ditunggu-tunggu sedari 2011..

Ambil route mana? kata direktor, anime akan mengambil Original Route

Saya juga belum main game-nya, kenal nih VN juga dari AMV  tapi review-nya bner2 positif, banyak yang bahas…

Episode satu akan tayang selama 1 jam, mirip Re:zero kemarin

Opening akan diisi Yanagi Nagi, yang pasti akan banyak ost dewa di anime ini…

Clannad, Angel Beats, Kanon, Charlotte adalah alumni Key semua, jadi wajib masuk WL
---
Qualidea Code
Genres:
Action, Magic, Supernatural
Original Anime dari A-1 Pictures (biarpun ada yang bilang dari novel)

Salah satu art terbaik untuk musim depan, trailer-nya bner2 menjanjikan, baik dari battle, design karakter sampai soundtrack

Sial, ost siapa itu, udah bikin eargasm aja? benar LiSA?

Lumayan hype juga ini anime, biarpun original, faktor pendukungnya banyak, dari kolaborasi scipter Oregairu dan Date a Live

Sampai ending song-nya diisi oleh Claris dan GARNiDELiA, akan jadi proyek original yang ambisius dari A-1
---
Love Live! Sunshine!!
Genres:
Music, School, Slice of Life
Anime peringkat satu yang paling ditunggu penonton jepang, lebih hype dari Shokugeki no Souma

Wajar memang, dilihat begitu suksesnya anime Love Live, sang pelopor anime idol kalau bisa dibilang

Jadi ini bisa dikata suksesor dari sang pendahulu
---
BATTERY
Genres:
Drama, Slice of Life, Sports
Sport bercampur Drama

Jarang bner sport diadaptasi dari Novel, jadi mencium bau Drama yang kental dibanding Sport-nya

Karena jarang yang review, jadi gak bisa komentar banyak, kasih sinopsis indo aja

Saat musim semi, Harada Takumi bersama keluarganya pindah ke daerah pegunungan, Prefektur Okayama. Semenjak kepindahannya, Takumi yang merupakan seorang Pitcher mulai frustasi karena di tempat tinggalnya yang baru tak ada seorang Catcher yang dapat bersaing dengannya. Saat ia merasa akan menyerah, tiba-tiba teman kelasnya, Nagakura Gou muncul di hadapannya dan berkeinginan untuk membentuk "battery" (kombinasi pitcher dan catcher) dengan Takumi.
---
Daftar Anime Summer Lainnya yang Layak Masuk WL
– D.Gray-man HALLOW – Season 2 D.Gray-man
– Amanchu! – Pengganti Flying Witch musim depan
– Nanatsu no Taizai: Seisen no Shirushi – Season 2 Nanatsu no Taizai
– NEW GAME! – Pemicu Diabetes
– Amaama to Inazuma – Usagi Drop tahun 2016
– Ange Vierge – Ecchi dari Silver Link
– DANGANRONPA 3 – Season 2?
– Nejimaki Seirei Senki: Tenkyou no Alderamin – Madhouse
– 91Days – Cerita berat, pengganti Joker Game
– dll – banyak….
---
Note :
Info "Trailer"
Status: Completed
Type: TV
Duration: -
Jatah Episode: 1
185 responses to "Trailer Untuk Anime Summer 2016 ( Wajib Lihat !! )"