Trailer Untuk Anime Winter 2016 ( Wajib Lihat !! )

Posted by Admin on Sunday, December 20th, 2015, Anime Series Series Not Found
Trailer Untuk Anime Winter 2016 ( Wajib Lihat !! )
yo, ketemu lagi
Seperti musim2 sebelumnya, AnimeKompi akan men-share Trailer/PV untuk anime musim depan, dan kali ini kita akan kedatangan musim pertama tahun 2016 yaitu Winter dengan periode waktu Januari – Maret, ada sekitar 41 judul anime  yang akan mengisi musim ini…
Setidaknya masih ada beberapa anime musim sebelumnya yang masih akan tayang musim depan yaitu Haiyuu, Utawarerumono, Garo, Gundam, Heavy Object, Gintama dan Diamond no Ace
"Bagaimana dengan anime-anime di musim depan?"
Studio-studio besar masih akan ikut bagian di musim ini, MadHouse, P.A Works, KyoAni dan masih yang paling rakus A-1 Pictures, dan tentu sudah pasti mereka akan membawakan anime yang diprediksi akan bagus, seperti biasa…
Musim ini hampir di dominasi oleh genre Action dan Fantasy.
Harem, Romance dan Comedy? ada pastilah, tenang saja
dee, inilah beberapa trailer untuk anime Spring 2016 yang dirasa layak buat di nanti dan di tonton.
" Jangan Pelit-pelit Buat Buffer "
Hai to Gensou no Grimgar

Genres:
Action, Adventure, Drama,Fantasy
Sekali lagi, masuk ke dalam game/dunia fantasi

Salah satu tema mainstream belakangan ini, tapi memang gak bisa di kritik, tema seperti ini selalu dapat rating cantik di MAL.

Di anime ini sedikit berbeda, di lain MC selalu IMBA dan pamer2, kalau disini karakter bner2 dibuat tak berdaya, lebih realistis, bagaimana perasaan jikalau memang kita terjebak di dunia lain? ada sisi misteri dan drama.

Positif, review dari pembaca novelnya sungguh positif, jadi ini salah satu yang ditunggu di musim ini, terlebih studio A-1, kalau memang mereka berminat mengadaptasi LN pastilah bagus.

Tinggal nungguin The New Gate dan Tate no Yusha no Nariagari diadaptasi, jujur saya lagi fanatik dengan tema macam ini
[youtuber youtube='https://www.youtube.com/watch?v=Ii2-zqoB-ww']
---
Ajin
Studios:
Polygon Pictures
Genres:
Adventure, Horror, Mystery,Seinen, Supernatural
Banyak yang bilang Tokyo Ghoul-nya musim ini, studio Polygon, ini yang buat Knights of Sidonia.

Jadi gaya animasinya ya begitu, 3DCG, yang menurut saya juga jadi kelemahan, karena mungkin masih ada penonton yang belum terbiasa dengan format ini.

Tapi dengan 3DCG Sidonia bisa mendapatkan rating diatas 8, jadi selama ceritanya bagus ya tak masalah., terlebih manga-nya memang bagus.

Ini akan dibuat trilogi, dan bagian pertama musim depan berjumlah 13 Episode.
[youtuber youtube='https://www.youtube.com/watch?v=TFyCQoSkTfU']
---
Gate: Jieitai Kanochi nite, Kaku Tatakaeri – Enryuu-hen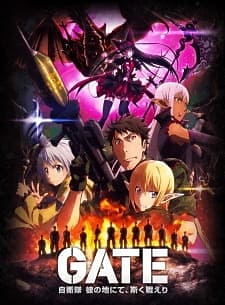 Genres:
Action, Adventure, Fantasy,Military
Part 2

Menunggu 3 bulan seperti 3 tahun, tertekan, dan akhirnya saya baca manga-nya, aseemmmm… 

Anime yang saya anggap terbaik di tahun 2015, entah sudah berapa kali di rewatch.

Setelah baca manga-nya baru engeh kalau ini 18+, pantas di part 1 banyak kata "jual diri"

Banyak scene yang diumpetin juga sama A-1, wajar banyak yang ngeluh kemarin

Terlebih di part 2 ini ada lumayan banyak scene "itu" tapi sepertinya bisa diumpetin lagi, yah yang terpenting ceritanya aja

Sisa satu cour ini akan mengambil arc dari Naga Api, tak sabar, sambil menunggu kemunculan sang tokoh antagonis, yang punya hobi…..

Di novelnya, Gate sudah tamat, manga-nya masih jalan, sebulan sekali chapter-nya rilis.
[youtuber youtube='https://www.youtube.com/watch?v=vlt1h0Yv1ds']
---
Shoujo-tachi wa Kouya wo Mezasu
Saya punya feeling bagus setelah melihat posternya, terutama sang heroine.

Anime yang diadaptasi dari visual novel berjudul sama, tapi VN-nya belum rilis 

Setelah baca sinopsisnya, sadar kalau ini mirip Soekano, membantu bikin Galge

Dari design heroin yang mengingatkan akan Yukinon dan Art manis sekelas To Love Ru, inilah faktor saya punya feeling bagus buat yang satu ini, ekspektasi tinggi, spoiler juga tak ada, game-nya baru rilis bulan Maret 2016
[youtuber youtube='https://www.youtube.com/watch?v=rblaPG33Hnk']
---
Divine Gate

Genres:
Action, Fantasy, Sci-Fi
Adaptasi anime dari game android , Let's Get Rich menyusul, satu babak permainan dibuat 12 episode 

Lumayan terkenal game-nya, 4 juta download di jepang sana, pantas dilirik untuk dijadikan anime

Dilihat dari PV-nya sih memang menjanjikan, art mirip Zetsuen no Tempest dan ada bagian kelamnya, soundtrack juga bagus 

Studio Pierrot kah? semoga bisa sedramatis Tokyo Ghoul, bukan mugen filler 
[youtuber youtube='https://www.youtube.com/watch?v=rz8mCK4CLxo']
---
Musaigen no Phantom World
Genres:
Action, Fantasy, Supernatural
Keren PV-nya, penuh hal yang menjanjikan, KyoAni makin berminat membuat action yang seperti ini, soal action memang sudah teruji sih di Kyoukai no Kanata, terutama Movie-nya 

Tapi tetap tak meninggalkan ciri khas moefication-nya, twintail, blonde, big mune dengan tahi lalat, wow

Dan tumben warna rambut dibuat pada warna-warni, biasanya warna-warna gelap, tuntutan novel VA-nya

Lumayan hype juga ini anime, banyak yang berekspektasi tinggi, action dari KyoAni ini loh, pamali kalau sampai gak ngikutin
[youtuber youtube='https://www.youtube.com/watch?v=Vq5shaXgf3Y']
---
Dagashi Kashi
Saya senyum dengan design mata anime ini, kaya….

Dagashi = jajanan anak, anime ini intinya ensiklopedia/memperkenalkan jajanan anak di jepang sana, tapi kayanya bakal dibuat gila dan absurd , lumayan terkenal manga-nya, terutama sang karakter utama, Hotaru…banyak doujin…

Director dari TWGOK, Studio dari Oregairu, karena manga-nya irit, banyak yang nebak kalau ini bakalan dibuat short anime, durasi pendek

Tapi masa studio Feel bikin Short Anime, bukan gayanya, dilihat saja besok gimana

Yang begini-gini jadi inget Non non Biyori
[youtuber youtube='https://www.youtube.com/watch?v=f5Sy_ld8MHA']
---
Kono Subarashii Sekai ni Shukufuku wo!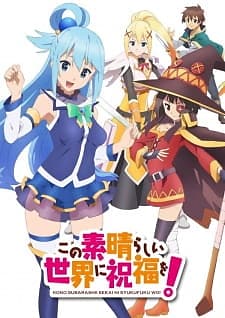 Genres:
Adventure, Comedy, Fantasy,Romance, Supernatural
Satu lagi, terjebak di dunia lain

PV dan Sinopsis berasa anime yang lumayan serius, padahal…. , ya entahlah, itu kata pembaca novelnya.

Genre ada Harem, pasti, hanya saja di MAL belum dicatumkan, dan yang jadi pembeda, dibanding survive di dunia lain, sepertinya karakter utama akan hidup konyol di dunia lain
[youtuber youtube='https://www.youtube.com/watch?v=jtB3L9GNA8w']
---
Prince of Stride: Alternative
Sport dari MadHouse, sesuatu yang fresh

Dari PV-nya sih mirip "Free", tapi melihat jajaran seiyuu malah Kurobas, tapi director-nya ini NGNL mas bro

Dan untuk pembeda, ada romance disini, romance yang bagaimana dan sport ala MadHouse yang bagaimana?

Patut ditunggu, apa akan sepanas punya I.G?
[youtuber youtube='https://www.youtube.com/watch?v=PtdI_v8s_9Y']
---
Ansatsu Kyoushitsu (TV) 2nd Season
Genres:
Action, Comedy, School,Shounen
Dalam waktu dekat sudah ada season 2

No comment untuk yang satu ini
[youtuber youtube='https://www.youtube.com/watch?v=HkqZ8qIAggI']
---
Ao no Kanata no Four Rhythm
Genres:
Drama, Romance, School,Sci-Fi
Adaptasi dari game Eroge berjudul sama.

MC punya masa lalu yang kelam, murid cewe pindahan dan boys meet girl, cukup klise alurnya.

Biarpun dari Eroge tapi di PV tak menunjukan ke arah itu, malah lebih terlihat Slice of Life..

Apa cuma kedok, apalagi ini Flying Circus, terbang-terbangan, yang pasti akan ada pantyshot nantinya, apalagi Gonzo yang buat Strike Witches  saa, entahlah…

Soal Harem, pasti, Gonzo ini loh
[youtuber youtube='https://www.youtube.com/watch?v=i00CHK7pjeA']
---
Boku dake ga Inai Machi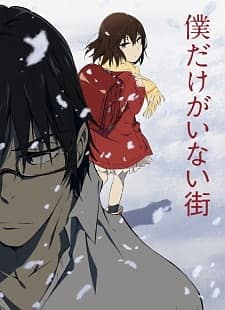 Genres:
Psychological, Seinen,Supernatural
Psikologis dengan karakter anak kecil?

Kelam pastinya ini, tarik nafas, baca review pembaca manga, wow, ternyata manga-nya memenangkan penghargaan.

Bercerita tentang kisah perjuangan seorang pemuda menghadapi kehidupannya dengan kekuatan khusus yang membuatnya dapat memutarbalikkan waktu saat ada kejadian buruk yang akan terjadi di dekatnya.

Jika bner2 bagus pengadaptasiannya, akan sangat nge-feels ini anime, begitu kata manga reader, tapi sayang karena manga-nya masih ongoing banyak yang spekulan bakal pakai original ending.

Mungkin karena sangking ngebet pengen dianimasikan ceritanya, sampai2 gak nungguin bahan dari manga-nya
[youtuber youtube='https://www.youtube.com/watch?v=9PjHDfgxQo0′]
---
Haruchika: Haruta to Chika wa Seishun Suru
Genres:
Mystery, Romance, School,Slice of Life
Hyouka + Euphonium rasa P.A Works

Tahu misteri di hyouka bukan, yup  misteri untuk hal-hal yang terbilang sepele, seperti itulah ditambah bumbu-bumbu musik.

Entah pada sadar, coloring anime ini terasa berbeda dari karakter-karakter P.A Works biasanya, lebih terang

Ada rahasia besar, tentang genre tersembunyi di anime ini, karena rahasia ya saya rahasiakan 
[youtuber youtube='https://www.youtube.com/watch?v=6dEnATBQ5ZI']
---
Daftar Anime Winter Lainnya yang Layak Masuk WL
– Active Raid: Kidou Kyoushuushitsu Dai Hakkei
– Reikenzan: Hoshikuzu-tachi no Utage
– Akagami no Shirayuki-hime 2nd Season
– dll
---
Note :
Info "Trailer Untuk Anime Winter 2016 ( Wajib Lihat !! )"
Status:
Type:
Duration:
Jatah Episode:
72 responses to "Trailer Untuk Anime Winter 2016 ( Wajib Lihat !! )"